Covid-19: Winter Season 2020-2021 No Climbing Holidays in Thailand 
Thailand has closed its borders for tourists for 2020, and are possibly extending this to March 2021. Unfortunately this means Rock & Sun will not be offering any Single or Multi-Pitch Sport Climbing Holidays in Thailand this winter.
Rock Climbing In Thailand
For close to thirty years Thailand has been the tropical sport climbing destination of choice. This is where it all began. The first of the exotic climbing destinations and still considered by many to be the best! We offer three fully guided tours of what many consider to be the most beautiful and exciting climbing destination in the world. Designed to give you a good flavor of what South East Asia has to offer. Your climbing guide Trevor Massiah has been climbing and developing routes in Thailand since the early 90s. He knows the area really well and will pick the crags to suit your experience levels and to avoid the crowds. Giving you the best possible climbing experience.
Southern Thailand is a must visit destination for any sport climber with a sense of adventure and an interest in experiencing other cultures. Wake up to the sound of the howling Brown Horn-bill in a tranquil tropical garden full of flowers, papayas, banana trees and palm trees. Climb alongside monkeys. Jump in the pool after climbing. Cocktails with live music for sunset. A Thai massage to loosen up the muscles. These are just some of the things that make Thailand a very special climbing destination. The climbing in the most part is super convenient meaning that you can get a full day of climbing in and still leave plenty of time for the abundance of other things that you may want to enjoy during your climbing holiday. Such as snorkelling, kayaking, Thai cooking lessons, scuba diving, a relaxing massage or having a taste of the entertaining nightlife.
Thailand Climbing Paradise
Thailand is a climbing paradise consisting of classic three dimensional climbing on pocketed limestone walls, towers and caves often dripping in tufas and flow-stone formations. Just as you think you are running out of options and see no way to get higher on the route, there is usually something behind you. You might be able to stand on a tufa behind you. Or have a complete sit down rest in a cave half way up a route. Often bridging or stemming is the best way to gain height. Overall, the climbing in Thailand is mind-blowing, and can ask for creative solutions.
Many climbs begin straight from golden sandy beaches or directly out of the ocean requiring a traditional long tail boat or kayak approach. The jungle crags could have you rubbing shoulders with monkeys, gibbons or monitor lizards and it is not uncommon to spot dolphins, sea eagles, kingfishers, turtles or flying fish while gazing down from belay ledges on multi pitch routes or during boat trips between the mainland, islands and peninsulas.
Rock & Sun Climbing Holidays in Thailand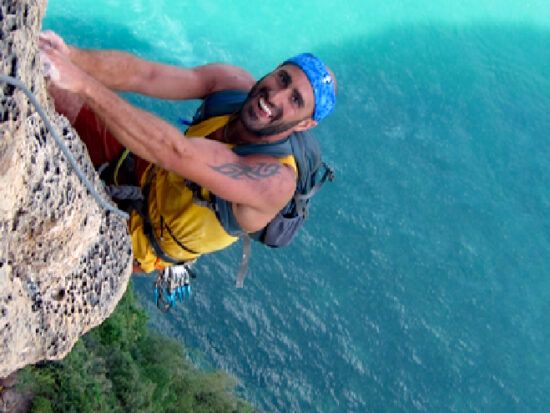 Multi-Pitch Climbing Thailand Climb some of Thailand's classic multi-pitch routes. A twelve night fully…
Quick Facts
Ideal for those climbing F6A-F7B+ (5.10 - 5.12c)
Great for non climbers and family members
Inland and sea cliff climbing
Limestone
Due to Covid-19 Winter season 2020-2021 No Climbing Holidays Thailand 
Searching Availability...
We Recommend Protectivity Insurance: