Tim Emmett is a professional climber, extreme athlete, TV presenter and climbing coach who has appeared on numerous BBC programmes. The most well-known television gig he did must be when him and Leo Houlding and Tim Emmett raced Jeremy Clarkson up the Verdon Gorge (France), and back down again in Top Gear.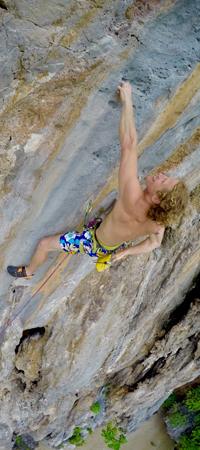 Tim has about 30 years of climbing experience and is very good in sharing his enthusiasm for climbing. Besides that, he is one of those climbers that is not only very good at it and passionate about it (this year his aim is to climb his first 9A), but he also knows exactly where there is room for improvement.
What makes Tim Emmett such a good climbing coach is that he will analyse the way you move on rock and tell you exactly how and where to just move your body, feet or hands a tiny bit so you'll be more in balance and save power, or so you'll be able to make the next move. Plus, he has the ability to coach different people with the approach they need.
Tim Emmett joins us in the Costa Blanca and in Thailand.
Find Tim Emmett On:
Find Tim Emmett In: