Jude Spancken grew up in the flatlands of Northern Germany but discovered rock climbing during an exchange trip to the South of England at the age of 17. She subsequently left Germany at the age of 21, moved to the UK and has been climbing ever since. The last 15 years have been spent climbing in different parts of the world, including Europe, the US, Canada, Sweden, Thailand, Australia, New Zealand, Greenland, Morocco and Algeria.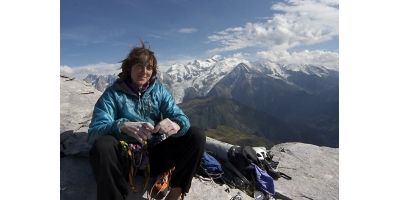 Jude is passionate about rock climbing and equally enjoys sharing her experience and knowledge through teaching. Jude did her rock guiding education in France, and holds the French 'BEES Escalade' qualification.
These days she lives in Chamonix, France. When she is not climbing, she keeps herself busy with photography, learning how to play the accordeon, or enjoying the mountains on skis or snowboard.
Our customers say about Jude:
"Jude was terrific, she catered brilliantly for the range of ability and ambition within the group and we all went home better climbers."
"Jude was absolutely excellent and her gentle encouragement and infectious enthusiasm really made me push myself more than I would have done otherwise."
"It was awesome to spend a week with Jude listening to her words of wisdom and advice and having the opportunity to watch her climb. I will take many things away with me to work on both mentally and physically."
Find Jude On:
Holidays
Courses
Performance Coaching
Find Jude In: