Placing trad gear between bolts can be an effective solution when struggling to find easy well-bolted routes for clients. Low grade routes can often be the worst to fall on due to the easy angled nature of the rock, making it far less likely that falls will be clean. Let's face it, how often do we struggle to find well-bolted easy warm up routes? Bolts on these routes are often placed where the climbing is a little more difficult and the possibility of falling possible. This can often lead to long gaps where the first ascensionist may find it hard to imagine anyone falling but the consequences may prove to be serious. This can result in intimidating or terrifying first leads for clients.
Firstly, let's look another option available to us before we look at the advantages of placing trad gear.
Using a sling or an alpine draw on the bolt can work well when the distance between bolts is not too long. This will bring the clipping position closer to the previous bolt (or ground) and is sometimes all that is necessary. When using this option, it is important to consider that we may have now created an unreasonable or unsafe gap to the next bolt. This can easily be solved by also clipping a standard length quickdraw onto the same bolt. This usually becomes essential when using a full-length sling to extend. Something that we need to be aware of though when using this method is that a high percentage of clients forget to clip the standard draw. This happens surprisingly frequently!
I've found that once people have clipped whatever is on the bolt, they tend to then focus on the next bolt. They will not necessarily pay attention to what else is on it when they get to within reach of the bolt itself. If working with a small group where it is possible to watch each climber closely enough to remind them as they pass the bolts, then this is fine – as long as they hear you and process your words. If working in larger groups where close supervision is not possible it can however present a real danger. For a number of reasons climbers may not be taking into account the distance between clips or be aware of the consequences of the fall (this can be even more problematic if any of these extended clips are out of view). When this occurs, we may have fixed one problem but created another.
It can be helpful to use a brightly coloured quickdraw that will stand out from the sling when you are using this method. A clear briefing on how to manage these clips is necessary but even then, the expectation should be that the distractions involved while climbing will cause a good percentage to forget. Therefore, I prefer to minimise the use of this technique if possible.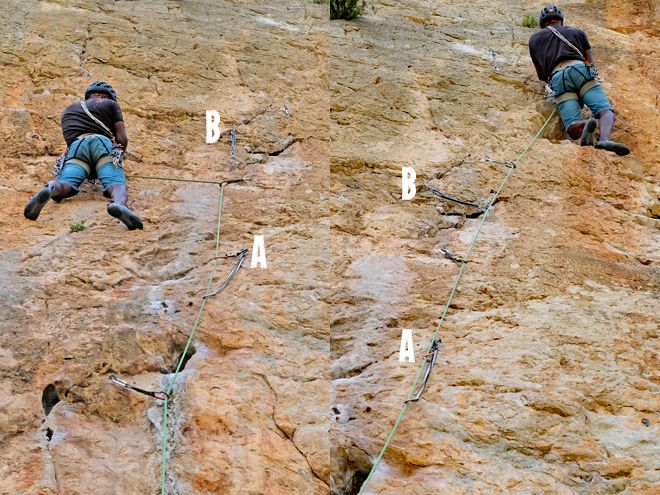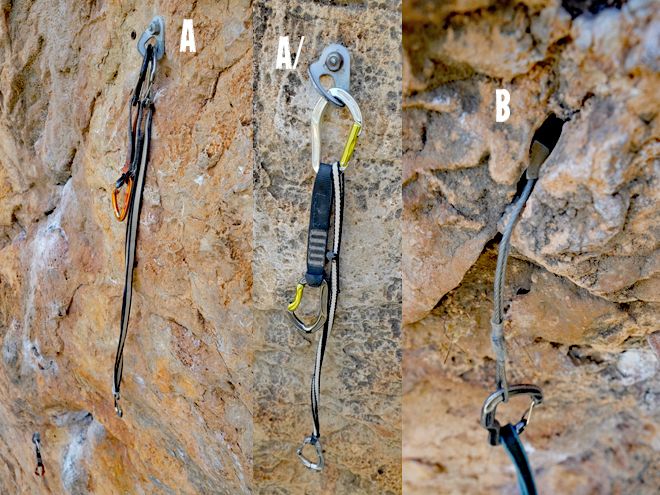 So, let's look at the advantages of placing trad gear for your clients to clip:
Reduces the distance between clips: this can minimize the chances of sustaining injury when falling. It can also help make the experience of leading less stressful and more enjoyable – especially for nervous leaders, which in turn can build confidence in being on the sharp end.
Less opportunity for getting the rope behind their legs and risk falling upside down. I try to create a clipping position every time the foot is a little below the last clip. Rope awareness is often hard for people to think about – let alone fully understand – until after they have become comfortable leading.
More clipping practice.
Back-clipping mistakes become less of a factor when it's not the case that each clip is crucial.
It can act as a gateway or introduction to trad climbing as people have the chance to see how trad gear works in practice, and often take an interest in how it works. They can become confident in the safety of well-placed gear.
Considerations when placing trad gear on sport routes
When adding trad gear between bolts, there are a few considerations to keep in mind:
It is best to place any extra gear on lead as the clipping positions and falls are easier to assess than when lowering. It is important to assess the consequences of the trad gear failing and the next piece or bolt holding the fall.
Gear needs to be bomb proof. Remember that you won't have an inexperienced second trying to fiddle it out, so you can 'weld' them in and remove them yourself if necessary.
Pieces need to be placed with greater consideration for an outward pull. As lowering tends to have a greater outward pull than falling on a piece, use longer quickdraws than you might normally.
Consider keeping the first bolt clipped for the leader as this will reduce outward pull on any trad gear.
If multiple people are leading the same route, ask the climber to lower past each trad piece and while at head height unclip it from the rope carefully. It is best to not have the trad gear clipped if the next person will top rope the route – this reduces the risk of them forgetting to unclip the gear as they climb past which might dislodge it, making it unsafe for subsequent leads.
With the clips being closer together, climbers need to be reminded of the increased risk of "Z" clipping which also has the risk of dislodging gear.
Resting on trad gear should to be discouraged. People are used to resting on bolts while as close to them as possible, maybe even holding onto the draw while leaning back. When clients want to rest on trad gear, I encourage them to fall, to push on to the next bolt, or to climb down a few moves to rest on the bolt below.
Disadvantages of placing trad gear
The considerations listed above should help to ensure that the trad gear is well placed from the start till the end of the session to protect our clients and/or to give them a confidence boost. I will re-climb routes to check placements if I'm not sure. As well as the advantages of adding trad gear to sport routes, there are also some downsides:
Some people feel like they are cheating, not accepting the challenge of the route. I like to remind them that they are sport climbing. It is completely arbitrary what experience the route setter creates. One person might prefer to produce well bolted friendly experiences and another person develops routes that can feel more terrifying than a grit E5! Often the bolts on easy routes are spaced to save money, not because of some sort of ethical or adventurous approach. This can also be the case on older routes where the first ascensionist attempted to justify placing bolts by keeping things a little spicy! As the first ascent is rarely an onsight, this can be somewhat unfair for those that come after.
The extra protection will undoubtedly encourage some climbers to lead routes they would otherwise have declined. Failure of trad gear to hold a fall that results in injury could then be problematic from a liability standpoint. Clients should have accepted the risks involved with sport climbing but may have little or no understanding of trad climbing.
It is of course important to remember that independent climbers may also want to climb the routes that you have equipped. They may or may not appreciate the extra gear that you have placed? It is always advisable to explain the process and possible risks as you would to your clients.
Final words
Adding trad gear can serve as a psychological confidence booster and increases the safety of the client. I believe that with all considerations taken into account, the pros outweigh the cons by a large margin, so adding trad gear to sport routes has become standard practice for our team of coaches when climbing routes that are not adequately protected.