Climbing shoes need to be fit for purpose. As an outdoor climbing company, we regularly work with climbers on their first outdoor climbing trip. Their climbing shoes might be fine for indoor climbing, where footholds are relatively big and stick out from the wall. But making the transition to climbing outdoors, the same shoes don't necessarily allow for standing on small edges, or using cracks.
We will therefore give a quick guideline of what to look for when buying a good pair of (outdoor) Climbing Shoes.
Stiff soles
First of all it is important that the soles are stiff. This can be checked by squeezing the toe box of the shoe sideways.

The stiffer the sole, the more support it gives the foot muscles when standing on small footholds. Wearing a shoe with a stiff sole allows the climber to place the toe area of the shoe on small edges without the foot slipping off the foothold. A sloppy shoe will 'roll off' the foothold once it is weighted, unless the foot muscles are strong enough to compensate for the softness of the shoe. We use a rough guideline of 7 years of climbing before the foot muscles are strong enough to wear more sensitive shoes.
Besides the 'squeeze test', another guideline is the thickness of the sole. We recommend buying 4mm rubber. And when it is time to resole your shoes, replace them with 4mm or even 5mm. This has as another advantage that the shoe will last longer.
Another thing to take into account is the shape of the sole. For relative beginners, we recommend flat soles, as opposed to the arched shoes.
Toe box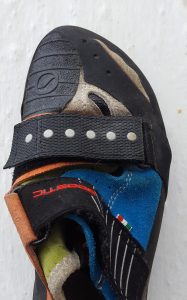 Then there's the toe box. We recommend shoes with a rubber toe box. The rubber maintains its fit, whereas leather stretches over time, as a consequence of which there'll be room for movement of the toes. When the toes move around in the shoe, this makes it harder to stand on smaller footholds, because the toes will 'roll off' the foothold. What you want is a shoe with your toes in tight so when you place your shoe on a small edge, it is actually your toes standing on it.
Scarpa
In our opinion, Scarpa is the leading brand for climbing shoes at the moment. The shoes are well-designed with high quality materials and maintain their stiffness longer than other brands.
What else?
Velcro or laces? That is pretty much a personal preference. Velcro is obviously quicker. Laces allow for a more specific fit.
Important Note: Your climbing shoes do not need to be painful. There's a big difference between a tight-fitting 'snug' shoe and a painfully tight shoe.
Tip: use baby powder. It keeps the shoe free from dirt, smell, and it makes it easier to get them on.
Although there is much more to be said about climbing shoes we hope this provides enough information. For those of you coming on a Climbing Holiday in the Costa Blanca, we have a big collection of shoes there for you to try and climb with before making your decision on what to buy.