Upcoming Rock & Sun Bouldering Holidays
Searching Availability...
Rock & Sun Bouldering Holidays
Bouldering Holidays are extremely popular. Bouldering is fun, it keeps you fit, it is challenging, and above all, it is super convenient! As opposed to rope climbing, you can go to the bouldering gym on your own. Plus, all you need is a pair of climbing shoes and some chalk!
Would you like to try this on real rock? Our instructors will take you to the best bouldering areas, teach you how to boulder safely outdoors, and how to climb on real rock instead of plastic. Regardless of whether you are a beginner when it comes to bouldering outdoors, or an experienced outdoor boulderer, the aim of the bouldering holiday will be to climb as many boulder problems as your finger skin can bare.
Focus of Bouldering Holidays
Our dedicated instructors are the best in the business and will make sure that your guiding is not only first class, but that the choice of venues is perfect for the bouldering grade you are currently at.
During the bouldering trip, your guide will work with you on personal development, including tips on climbing techniques, how to deal with fear, or how to safely jump off boulders. We will do our best to provide the perfect environment for you to increase confidence and improve technique, to help take your bouldering to a new level in a fun and sociable environment. The Rock & Sun bouldering guides boulder to a high standard themselves so not only their experience working as a guide but also the advise they can give based on their personal climbing experience will benefit your climbing.
Bouldering Locations
Rock & Sun offers 4-day Bouldering Holidays in Europe's two most popular Bouldering areas: Fontainebleau in France and Albarracin in Spain. Both areas are perfect for all levels, and are very pretty too. You will have a great time bouldering as well as wandering in the forest and in town afterwards. Recipe for a great holiday! If you would like to extend your holiday, we recommend to add a city trip in Paris (near Fontainebleau) or Valencia (near Albarracin).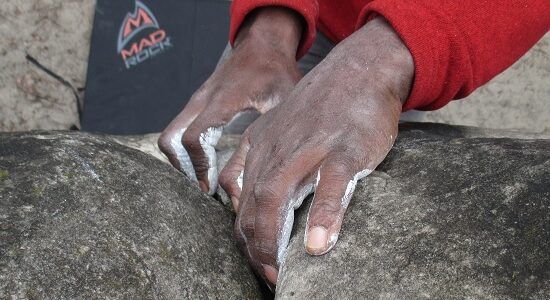 Fontainebleau Bouldering The Forest of Fontainebleau is a mecca for boulderers from all over…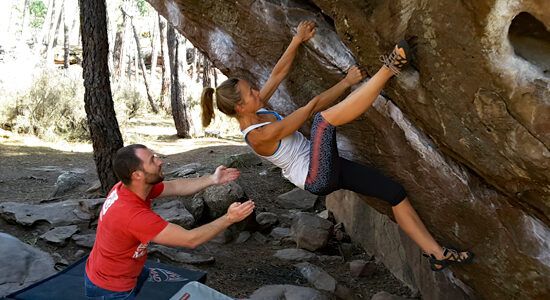 Albarracin bouldering area is set in a remote and tranquil forest near the…
Rock & Sun Bouldering Instructors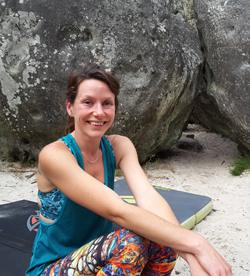 Amber Thornton was introduced to climbing at a small indoor wall, and shortly after,…
Sample Itinerary
Friday: arrival day, transfer to your accommodation, possibly a quick boulder session
Saturday: bouldering and coaching
Sunday: bouldering and coaching
Monday: a morning boulder session, transfer to airport/train station.
Included
3 days guided bouldering and coaching
3 nights accommodation
transfer to/from Valencia Airport (Albarracin)
transfer to/from train station (Fontainebleau)
use of bouldering mats
Under 18
For families with children under 13 we recommend Private Guided Bouldering
Children aged 13 to 18 can join our bouldering long weekends providing their parent or guardian is present at all times
Following our Bouldering Risk Assessment all under 18-year olds are to wear a helmet while bouldering
For this Bouldering Holiday we recommend Protectivity Insurance: