Women rock! We are fantastic climbers. We have style, poise, grace, flexibility… We "climb like a girl"! Well now, we are offering you a chance to come on a Women Only Climbing Holiday. Depending on the availability of our female instructors, they are organised in the Costa Blanca or Haute Provence.
Women Only Climbing Holiday
Women tend to climb differently to men. Because they generally can't rely on brute force to get them up a route! Our female climbing instructors, Jude Spancken, Esther Foster, Robyn Nelson and Desiree Verbeek have explored ways of maximising the strengths of women: flexibility, focus, creativity, and inner strength. Thereby maximising women's climbing potential and enjoyment.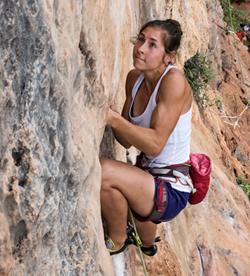 Esther Foster (MIA) lives in Yorkshire and loves climbing! "Whether it's long days in…
All Rock & Sun's female instructors are experienced climbing coaches with a true passion for the sport. They will aim to give you the best climbing experience. They can coach you and improve your climbing technique so you'll learn how to climb more efficiently. Also they could work with you on other areas of your climbing that might need some attention. For instance how to deal with insecurities, fear of falling, or fear of failing. Furthermore, an all women environment can give encouragement and like mindedness that you don't always get from our gorgeous macho males!
The BMC promotes gender equality within rock climbing. One of their campaigns is This Girl Can Climb.
Women Only Climbing Holiday
5 days guided climbing with female instructor
Technique & performance coaching especially for women
7 nights accommodation
Airport transfers
Transport to and from the crags
Maximum ratio is 1:6
Women Only Climbing Holiday for women who want to
climb with a female instructor
meet like minded climbers
learn how to climb hard without relying on a strong upper body
Upcoming Rock & Sun Women Only Climbing Holidays
For this Women Only rock climbing holiday we recommend that you have your own:
Harness
Helmet
Climbing Shoes
Dick's Climbing is a dedicated climbing shop that offers a large range of climbing equipment and shoes at good prices.
For this Women Only rock climbing holiday we recommend Protectivity Insurance: