Originally from the New York area, Michael made the move to Krabi, Thailand in 2004. It was easy to fall in love with the beauty, culture, people and climbing of the area. He is married to a local woman and has two children born and raised in the Krabi province. He is currently the Managing Director of Laoliang Island Resort, the first stop on the Rock & Sun Thailand Island Tour.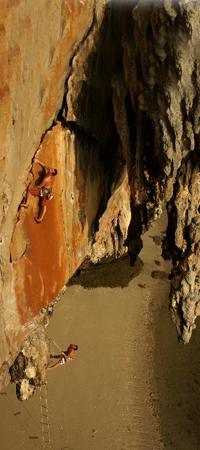 In the States, he holds a Teaching Licence in the Social Sciences and has spent a large part of his working history in the experiential education field.
Michael has climbed extensively throughout the southern region of Thailand; most specifically at Railay/Tonsai, Laoliang and Ko Yao Noi. Recently, he has been spearheading the development of local crags on the mainland (reminscient of the karsts in the Yangshuo Province of China).
In the southern Thailand region you will struggle to find anyone with as much intimate knowledge of the climbing. He really is "the man on the ground."
A Rock & Sun client wrote this feedback about him: "Michael was great. He really knew the area, and was able to select climbing areas and routes well suited to my ability. He also managed to time our arrivals at the various walls in time for us to climb before the crowds arrived. We almost always were alone at a wall and packing up to go just as groups turned up. He took extra safety precautions for me, which made me feel very safe and comfortable. He brought excellent food too! Railay and Tonsai were beautiful, and full of good climbing". (Private guiding, Thailand)
Find Mike On:
Find Mike In: