Lesley has worked in Marketing, Publicity, Media and PR for over 30 years, with positions including Marketing and PR Manager for one of Wales' five repertory theatres, Marketing Manager and Presenter for Pembrokeshire's first local Radio Station (where she was also the voice of a nightly show called 'Pembrokeshire Passion' (!) and later became a news reader and feature presenter where, she says, she was something of a Bridget Jones doing very embarrassing and daft stunts).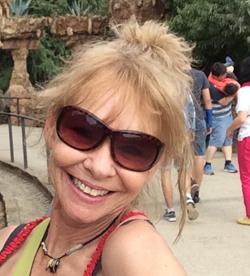 She was also the Administrator for The Prince's Trust Outdoor Instructor Training Scheme where she had her first taste of rock climbing – she thought she ought to know what it was all about before trying to promote the instructor training scheme! Her first route was a trad climb called  'Sea Mist', which is on the wonderful south Pembrokeshire Coast.
Her broad experience also includes Project Leader for the whole of Wales for the Prince's Trust Mentoring Careleavers Scheme and a Park Ranger for the Pembrokeshire Coast National Park. Over the many years working within the mad world of Theatre she also covered practically every aspect, including Design, Directing and Performance. Lesley's passion throughout these years has been long distance walking and trekking and caring for 'cast off' four legged creatures – horses and dogs especially. Until she moved she was a drumming member of a Samba Band where she liked to make a lot of noise – but generally she is quite tame!