Justin has over 20 years experience climbing, exploring and working in mountain training. Growing up in Snowdonia provided the opportunity to explore the coast and hills around where he lived. Justin gained his Single Pitch Award in 1998 and has worked in outdoor activities ever since. He continues to enjoy all aspects of this exciting and diverse sport.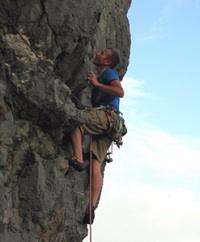 Justin's enthusiasm for adventure, exploration and challenge continues to drive him through every aspect of his life. His wider interests include kayaking and running ultra marathons. He lives with his wife and two children in Budleigh Salterton, Devon. Enjoying the great outdoors is a cornerstone for their family life.
This is what Rock & Sun clients have written about Justin:
"Our instructor, Justin, was fantastic. Clearly very experienced and very patient, letting us work out our own routes before offering advice if we really got stuck! He taught us about all aspects of climbing outdoors, from abseiling to having a go at placing gear. He kept things interesting and took us on routes that were challenging but possible – just right". (Intro Rock – Wye valley).
"Our group had a fantastic weekend with Justin as our instructor. He was able to gauge our abilities and preferences quickly and plan our days accordingly. We learned a lot; leading easier sport routes and toproping more challenging and longer routes. Justin was patient, friendly and highly professional throughout. I'd love to do another course with him in the future". (Private Guiding – Wye Valley)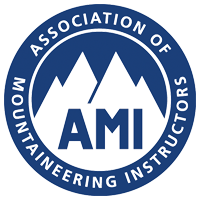 Justin is a Mountain Instructor Award holder and a full member of the Association of Mountaineering Instructors. Membership number: 64750. He is a qualified teacher and has a wide range of other land and water based outdoor qualifications.
Find Justin On
Intro Rock
Learn to Lead Sport
Learn to Lead Trad
Private Guiding
Find Justin In