Braden Mayfield was born in Yosemite Valley. His father Peter Mayfield was the Chief Guide of the Yosemite Mountaineering School in the '80's and is still running a guide company in Tahoe. Raised by a community of "rock stars", his first toys were carabiners. Braden began climbing rocks even before he could walk.
At age 11 he retired from competitive sport climbing to pursue a skateboarding career. Quickly frustrated by a lack of smooth concrete in the valley, he returned to his roots in traditional climbing and summited most of Yosemite's large formations (including a handful of El Cap ascents) before his teenage years were over. He also developed a passion for rigging and walking slacklines between high peaks in the Sierra.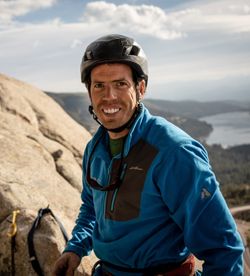 As an adult, Braden has put his rope skills to work as a guide and an entertainment rigger, spending the last 15 years installing complex systems to fly cameras and aerial performers/ stuntmen for movies, television and live performances.
Between jobs he travelled the world in search of unique experiences on and off the rock (mostly on). He has helped develop a sport climbing scene the island Koh Yao Noi in Thailand. He spent many summers living in a camper-van traveling crag to crag in Europe, including Czech sandstone towers, big walls in the Dolomites, historic sport climbing crags in France, the sea cliffs of Mallorca, and almost everything in between.
He has recently settled in Mallorca with his Spanish wife and two young children.
His true passions are: connecting with nature, moving over stone, and sharing these experiences with others.
Climb with Braden Mayfield
Braden Mayfield is a certified Single Pitch Instructor and has completed the Rock Guide Course through the American Mountain Guide Association (AMGA). He runs Rock Climbing Holidays for Rock & Sun on Mallorca